So I'm guessing based on my previous previous post about the
TAG and WIN Contest
, I'm pretty sure
ESMOD Kuala Lumpur
is no longer a stranger to you guys anymore. Therefore, since the TAG and WIN Contest ended yesterday, not to forget a big congrats to all the winners lucky you ; it's time for a new contest to be launch :).
ESMOD Kuala Lumpur is having another amazing contest called the
" Looking for Street Styler" Fashion contest.
They are in hunt to look for all the fashionista in Malaysia, so it's time to step out from your closet and embrace this moment :) hahah
All you need to do is,


2. Ask your families and friends to

LIKE

you picture

(Once they've upload into their facebook page)



3. The highest amount of likes will stand a chance to win away cash up to
RM2,300
This is just beyond cool and amazing.
Don't be shy and make full use of you daily OOTD picture and send into ESMOD Kuala Lumpur Facebook page. You might stand a chance to win away such amazing prizes.
Before I continue to next big news, let's have a brief understanding of what ESMOD Kuala Lumpur is about.
For the past 20 years, The One Academy has been consistently dedicated to the cause of providing quality creative education by nurturing future creative pioneers towards high-flying success. In order to keep up with the substantial growth of the fashion industry, The One Academy decided to take a giant leap forward to partner with ESMOD International Fashion University Group and form the well know ESMOD Kuala Lumpur we have today in June 2012.
ESMOD was the first and most prominent fashion school in the world and was established in Paris 172 years ago. This fashion institute contributes to the conceptualize haute couture by inventing many today's essential tool, such as draping mannequin and measuring tape that is so essential to all designers throughout the process of creation and production of garments.
Therefore, in conjunction of ESMOD Kuala Lumpur First Anniversary, this fashion institute is planning a star-studded fashion event to mark it's first year anniversary whereby fashion showcase including runway displays created by ESMOD's most talented new designers and featuring different design themes that will take your breath away to an enhancing journey of elegance and distinctness.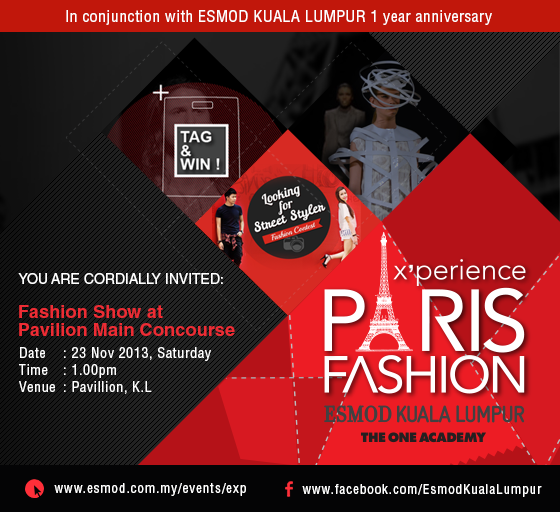 It's happening on the 23rd November, this coming Saturday 1pm at the Pavillion KL shopping mall. I can't wait to see what ESMOD Kuala Lumpur is going to bring on. It's going to be FUN and CREATIVE.


Till then, have a great week till the weekend.