When it comes to PUMA, it is definitely something familiar to us, or in fact it's word that have been imprinted in our mind even if we try not to remember it. I personally think, It has been categories as a human nature that whenever we see, heard, think about PUMA it aligns with sneakers and sports. Do you agree with me ?
PUMA is known as one of the world's leading/lifestyle companies that not only designs and develops footwear, but apparel and accessories as well. Do you know that PUMA
is committed to working in ways that contribute to the world by supporting Creativity, SAFE Sustainability and Peace, and also by staying true to the principle of being Fair, Honest, Positive and non the less Creative in decisions made and actions taken. It is true that PUMA starts with sports and ends with fashion. For instance, many products such as PUMA Sneakers have been and still is a sport-went-to-fashion statement. And if only sneakers could speak, the Future Suede definitely has an amazing story to tell.
The Future Suede Sneakers retains the signature 1968 profile of the Classic Suede vut thats where all the familial looks end. It's light on weight, light on suede, and has some serious futuristic tweaks: a lightweight bottom, painted midsole, and neoprene tongue. It's decked out with PUMA Trinimis hexagons, heel clips, and eyelets.
Back in 1968, the Suede was known as the shining star as it was ignited and worn by athletic greats such as Tommie Smith and Walt Frazier. It then rose to a new levels of famn in the early days of hip hop, as it became a favorite by the New York Breakers and the Rock Steady Crew who adopted its sweet, smooth and classic look, and cemented its status as a cultural street icon when The Suede appeared in the 1984 movie " Beat Street". Without a doubt, The Suede has rightly earned its place in public affection an in every Hall of Fame.
Therefore, this spring-summer 2013 PUMA will mark The Suede's 45th year of changing the game and the release of soon-to-be-legend, the FUTURE SUEDE with massive celebration through contests, events, exhibitions, TV and campaigns as well.
In order to celebrate this great and successful 45th years of rich heritage as well as to kick off the ' Evolution of the Suede", PUMA is inviting all their fans from all around the world to be a part of the " Classic Suede Instagram Contest" and also calls for an interpretation of the Future Suede in the year 2058.
I know right now , you might be feeling confused and all over the place but no worries, because I'll pin down every single details here for you.
1)

The 'Evolution of Suede' Instagram Contest

:
This calls for the public to post pictures of their personal collection of the Suede , a photo of a favourite street icon, or their design of the 2058 Future Suede.

PUMA fans can also take pictures with iconic props available in PUMA outlets.

And

REMEMBER

to hashtag

#ForTheStreet,

so that

fans can become part of the timeline with other fans worldwide

The contest will

start on the 25

th

February 2013.
2)
The 2058 Future Suede Designing Contest:
- The arrival of the Future Suede calls for an

interpretation of the Future Suede in the year 2058

.

- With the Suede template provided at

http://go.puma.com/suedetemplate, 30 top designs submitted to PUMA will be selected and exhibited.

- The designing conte

st will

begin on 18

th

January 2013, to 1

st

of March 2013.

- A winning design will be selected

to win the

grand prize of PUMA products worth RM2,000, 2 VIP passes for the PUMA Evolution finale event, and meet & greet with artiste at the event

.
Templete design has to look like this, eg: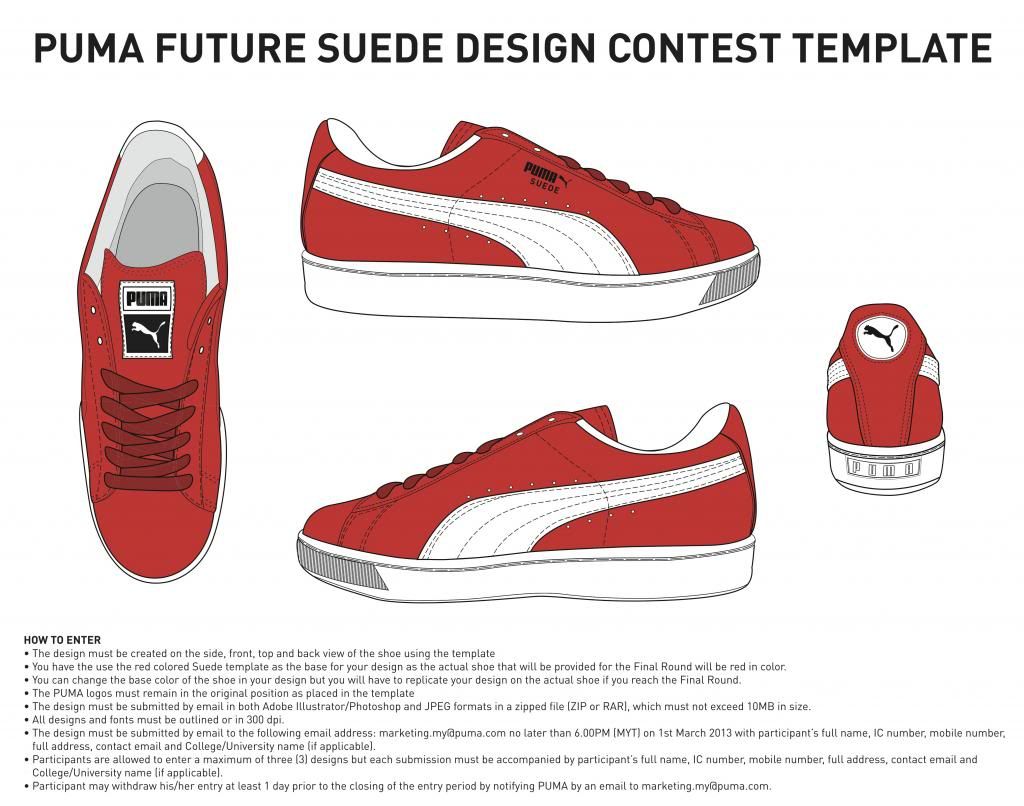 TERMS AND CONDITIONS
The Promoter of this competition is PUMA Sports Goods Sdn. Bhd. ("PUMA").
Entry is open to Malaysian residents only. Employees of PUMA, associated retailers, any companies or agencies directly connected with this competition, and their immediate families (spouse, parents, siblings and children), are not eligible to enter.
3.1.1. Download the Suede Template from the following link

go.puma.com/suedetemplate

and submit your design based on the following rules

3.1.2. The design must be created on the side, front, top and back view of the shoe using the template

3.1.3. You have the use the red colored Suede template as the base for your design as the actual shoe that will be provided for the Final Round will be red in color.

3.1.4. You can change the base color of the shoe in your design but you will have to replicate your design on the actual shoe if you reach the Final Round.

3.1.5. The PUMA logos must remain in the original position as placed in the template

3.1.6. The design must be submitted by email in both Adobe Illustrator/Photoshop and

JPEG formats in a zipped file (ZIP or RAR), which must not exceed 10MB in size.

3.1.7. All designs and fonts must be outlined or in 300 dpi.

3.1.8. The design must be submitted by email to the following email address:

marketing.my@puma.com no later than 6.00PM (MYT) on 1st March 2013 with participant's full name, IC number, mobile number, full address, contact email and College/University name (if applicable).

3.1.9. Participants are allowed to enter a maximum of three (3) designs but each submission must be accompanied by participant's full name, IC number, mobile number, full address, contact email and College/University name (if applicable).

3.1.10. Participant may withdraw his/her entry at least 1 day prior to the closing of the entry period by notifying PUMA by an email to

marketing.my@puma.com.
3.2.1. The top 30 designs from the Preliminary Round will be given the actual PUMA Suede's for them to create their final design on the actual shoe.

3.2.2. The top 30 designs will be announced via PUMA Malaysia's Facebook page and thru email by the week of 4th of March 2013 and the shoes will be given to the finalistsby the same week and the finished design must be submitted back to
For more on " Evolution of the Suede", visit
www.madeforthestree.com
from 18th January 2013 onwards for the first phase of the campaign. Full campaign content will be available from 18th February 2013.