When it comes to skin care product, to be frank, I only started learning the importance of it like two years ago. Before that, all i ever did was either wash my face with soap or cleanser and thats the end. No toner, no moisturizer, no serum, no face mask at all. I really couldn't be bother about my skin at that time, well that explains why I have bad acne and terrible dry skin at that age. Thank god I have a best friend who takes care of his skin like he's life, it was from him that I started realizing how crucial it is to take good care of my skin.
Our skin is an organ that shows out our physical appearance. "They" do not liar when "they" are exhausted and "they" do not liar when "they" are healthy. It's true that when you dont take good care for your skin, you're skin tend to show negative sign. Moreover, it's the fact that when you take good care of your skin, you'll look more vibrant and fresh.
It took me awhile to finally understand why having a good skin is extremely important, and I've learn the hard way, trust me, to actually realize it by encountering dry skin, pimples pooping out and dull skin. Now, I m sure everyone knows that the key to achieve fair, vibrant and healthy skin is to start using the right skin care product and have a healthy lifestyle as well.
For this post, let's focus purely on skin care product itself :). Just 2 weeks ago, I've lay my hand on
E.V.E - The Secret to Radiant & Youthful Skin
skin care product and I am pretty impressed with the way how my skin became much better then before. I mean maybe sometimes it's hard to judge the difference through picture unless there's a drastic change, but I know myself more then anymore.
For me, I wasn't born with fair, vibrant and glossy skin. In fact, I may have just destroy my skin with so much UV when I was in high school. Ever since then, I've realized that I need to do something with my skin before it's too late. Therefore, after two week of consistency usage of E.V.E - Daily Three Step System, I see improvement with my skin and I have to say it's my current favorite facial product.
So here's the instruction;
Use Daily : Day & Night
STEP 1 :
Dampen your face and then create lather on your hand by using the
E.V.E ALL-IN-1 Bar for Cleansing
(link)
. After creating lather on your hand, then apply and gently massage it over your face and neck for about 1/2 a minute, then rinse off with water. (link)
Use Daily : Day & Night
STEP 2 :
After step 1, applied the
E.V.E IN 1 Vsphere Serum
(link)
to your face and neck. You will notice how quickly the serum get absorbed into your skin. Moreover, if you feel there's a warm sensation on your skin after applying, don't panic because it's normal. It's the proprietary technique and delivery system of this serum which enables the active ingredients to make penetration to the skin surface layer and stay in the layers of the skin.
Use during the day
STEP 3 :
During the day, after applying the serum, it is essential to applied the
E.V.E 6-IN-1 Day Cream
(link)
as it helps to boots the efficiency of sunscreen actives.
Isn't it easy to remember the steps and instruction?
I truly cant deny that
E.V.E
does brings out the secret of radiant and youthful skin. Moreover, this products is suitable for all people at all ages, including men. Well before I go on I would like to stress on something, I know that most men wash their face and they don't like to apply anything on after is because they think that all the creams and serums are too greasy and sticky. Trust me, my boy has the exact thinking as well. But hey,
E.V.E 6-IN-1 Day Cream and the 7-IN-1 Vsphere Serum
is the complete opposite of it, it's not greasy at all. How cool is that.
Besides that, this product is also perfect for acne prone skin because it contains :
1. Potent Austrian Deep Moor
2. Plants stem cells to protect the skin stem cells
3. Aloe Vera
4. Virgin Coconut Oil
5. Hyaluronic Acid (Hydration)
6. Vitamin C
7. Hydrating Algae Extract
Here's some before and after/progressing pictures.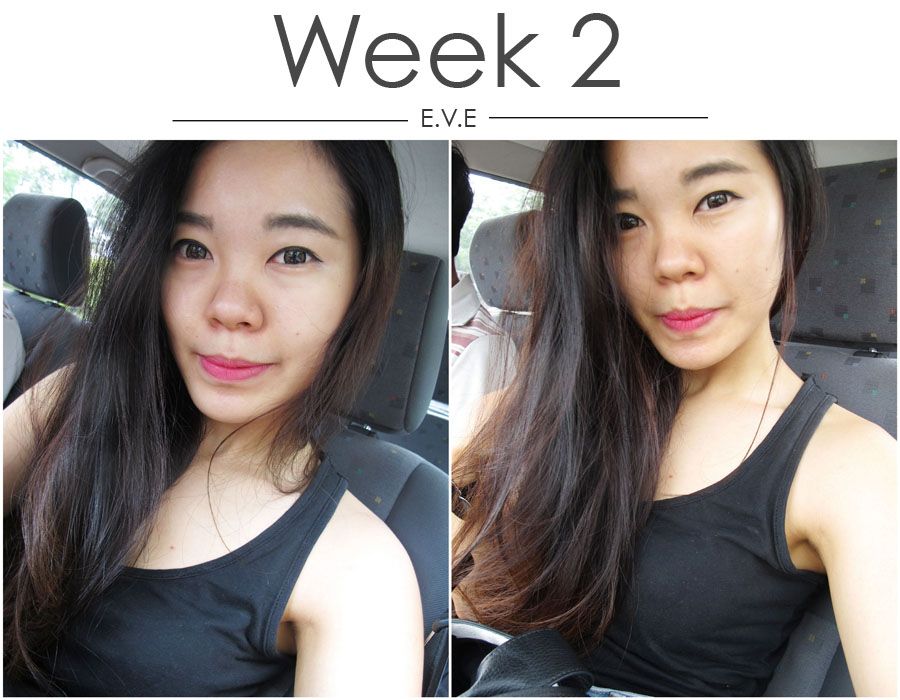 ( Just to make things clear, all the pictures above is taken without concealer and foundation on.)
So here's the best part for all my readers :)
You guys are able to get
10% off
with every purchase you made with EVE Miracle :)
All you need to do is to insert the
redemption code
as you purchase the items. However, there is a duration for the redemption code, so waste no time and purchase the product that I think is a miracle to my skin.
REDEMPTION CODE :
EVEAMANDA
DURATION :
27th September - 26th October 2013
LINK :
http://www.evemiracle.com.my/